Publications
Historic Waco Foundation has our own small bookstore located in Hoffmann House. Our inventory includes a large selection of books pertaining to the history and development of Waco, architecture, and elements of Texas heritage. Listed below are just a few examples of our selection of available publications.
Need a gift for someone? Purchases and gift-giving is made even easier with HWF's telephone credit card service. We can mail the book for an additional fee of $5.00 for shipping and handling. HWF accepts all major credit cards: Master Card, Visa, Discover and American Express. To learn more about our inventory or interested in placing an order, call the office at (254) 753-5166. Our offices are open Monday – Thursday, 8:00-5:00 and Friday 8:00-12:00.
Some of the items listed below are on sale at reduced rates and several will be out of print once HWF sells its limited stock. Most of the material is authored by Wacoans, but a few are decorative arts, cookbooks or gardening books written by past speakers at HWF and Brazos Forum lectures and workshops. In addition, consider the purchase of HWF's magazine, Waco Heritage & History. We have issues in stock for $5.00 each.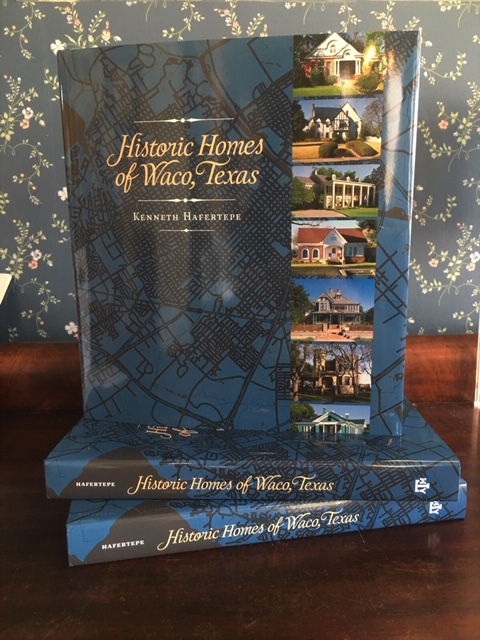 NEW in our Bookstore

Historic Homes of Waco, Texas
by Kenneth Hafertepe
$40 (price includes tax)
In this thoughtful tour of 120 historic homes in Waco, Texas, architectural historian Kenneth Hafertepe gives readers a glimpse of the surprising variety of styles and stories captured in the houses built by and for Waco's. Focusing on the period from the 1850s to about 1940, Hafertepe provides not only snapshots of the dwellings in which the people of Waco lived, but also informed hints about how they lived- everyone from the wealthiest merchants to the humblest day laborers.

About the Author:
Kenneth Hafertepe is a chair of the department of museum studies at Baylor University. He is the author of several books, including Guide to Historic Buildings of Fredericksburg and Gillespie County and The Material Culture of German Texas.
Available Books for sale
(all prices include tax)
19th Century Churches of Texas by Bobbie Barnes - $21

Kitchen Delights from Then and Now (Fort House Tea Room) -$5

Madison Cooper by Marion Travis - $3

Selections from Portals to the Past by Claire Masters- $27

Waco: A Sesquicentennial History by Patricia Ward Wallace - $33

Waco's Champion: Selections from the Papers of Roger Conger- $28

Writing, Illuminating, & Lettering by Edward Johnson -$16

Lone Star General by Hiram Granbury - $20

Waco Cotton Palace Cookbook: A Legacy of Gracious Dining - $5
WHAT ABOUT WACO DOCUMENTARY DVD FOR SALE
We have a limited number of "What About Waco" DVDs for sale. The cost is $30. You can pick one up at 810 S. 4th Street or call us at 254.753.5166 to order and we will mail the DVD to you for a $5 shipping charge.